All-in-one tools you need to get tough jobs done.
Who says you can't have thin, light and rugged at the same time? Panasonic handheld devices—running both Windows® and Android™ operating systems—give you rugged tools that operate in the most unforgiving environments.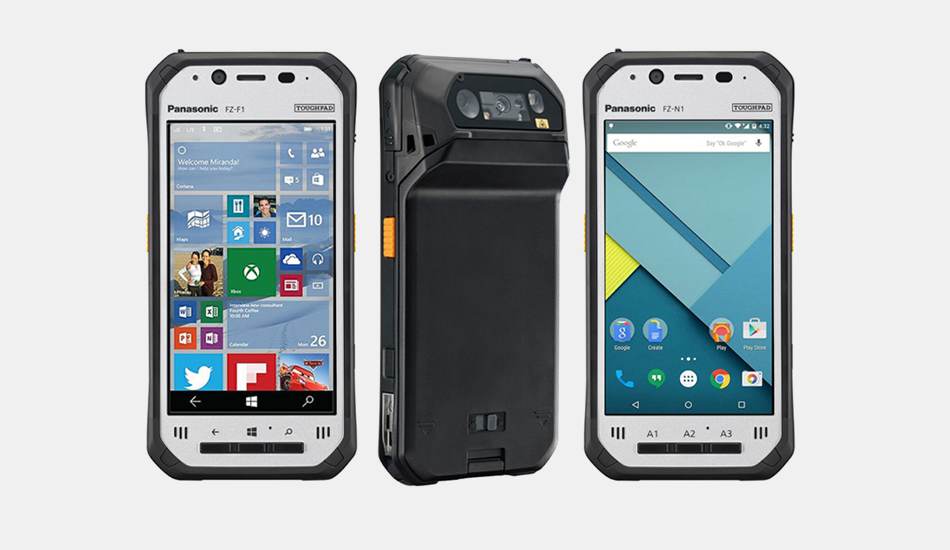 Panasonic Handheld FZ-N1
Product details
The Toughpad FZ-N1 with Android™ 8.1 is one of the thinnest and most lightweight handheld tablets in the 4.7" category. The device offers numerous unique features, including an angled rear barcode reader which protects users from repetitive strain and enhances productivity, and an optional passive and active pen for precise handwriting and signature capture. 
The FZ-N1 brings together the best of handheld, smartphone and barcode reader functionality into a single rugged and hard working 4.7" tablet. Thanks to its fully-rugged design, with MIL-STD-810G certification, IP67 rating, 1.8-metre drop resistance* and the ability to withstand as many as 1,000 tumbles from a height of 1 metre, the device delivers a long life span and very low TCO. The user-replaceable and warm-swappable, battery combined with a range of accessories such as carry and mounting solutions, make it a truly mobile device. Along with the FZ-F1 Windows 10 IoT Mobile Enterprise version, the FZ-N1's state-of-the-art Qualcomm® quad-core processor, together with 2GB RAM, guarantees high performance. 
This cutting-edge device has been designed for mobile workers in the postal and courier services, transportation and logistics, emergency and public safety, utilities, retail, manufacturing and defence sectors.
Key features
4.7″ Fully Rugged Handheld with Android™ 9(Pie)  – Qualcomm® SDM660-2 64bit 2.2GHzx4+1.8GHzx4 Octa-Core
Wi-Fi, optional 4G LTE WWAN with GPS – Dual Nano SIM, Bluetooth® with Low Energy, NFC, 1280×720 500 NIT screen 10-point touch.
MIL-STD-810G. 7′ drop. IP66 and IP68 dust and water-resistant certification
12-hours (19-hour long life battery) depending on user profile; 8-hour rated (or 16-hour long life) continuous data use. User-replaceable battery* that is warmswap capable
Standard: USB 2.0 (with option for Host or Client mode), Barcode Reader.
Panasonic Handheld T1
Product details
The Toughbook FZ-T1 brings together the best of handheld and smartphone functionality into a single rugged 5″ device. With its voice and data capabilities, integrated barcode scanner, wide range of functionality and a host of accessories the Toughbook FZ-T1 handheld is the ideal tool for mobile workers in the retail, manufacturing, warehouse, transportation & logistics and public safety sectors. Tested to MIL-STD-810G, with an IP68 rating and 1.5 meter drop resistance, the FZ-T1 promises a long productive life span with a low total cost of ownership.
Key features
Android™ 8.1
Integrated 1D/2D barcode reader
2 user configurable scan buttons on either side
Optional 4G Data and Voice capability
2 GB RAM and 16GB flash storage
5″ HD (1280 x 720) enterprise display with Glove & Rain modes
Tested to MIL-STD-810G*
5 meter drop resistance*
IP68 rated*
User replaceable battery with warm swap function
Up to 12 hours continuous data access time
Enterprise level security and manageability (COMPASS)